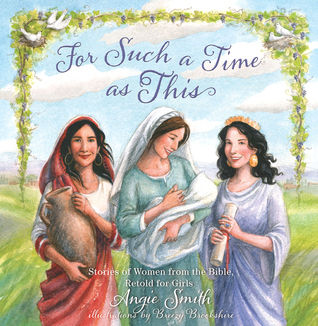 "For Such a Time as This"
illuminates the stories from the perspective of prominent women of the Bible, including Eve, Sarah & Hagar, Esther, Mary Magdalene, Gomer, and more with vivid and historical accuracy. Girls aged 6 to 10 will enjoy learning about God through the recounts of the Bible's heroines and stunning illustrations. Summaries at the end of each story highlight the attribute of God to be learned and offer thoughtful reflections for both parent and child to takeaway.
For Such a Time as This is Angie Smith's second children's book,
a Bible storybook for girls that features 40 biblical retellings from prominent women in both the Old and New Testament. (Her first children's book is Audrey Bunny, review here). This one is a beautiful book, illustrated once again by Breezy Brookshire.
The stories are really accessible to little girls. I think Angie did a great job! She uses simple words and sentences that I think are perfectly suitable for children. What I especially loved about these stores is the way she managed to intertwine the Old Testament stories with the New Testament stories. You really have a feeling of continuity. She focuses on women's character traits in each story, giving such a beautiful and comprehensible perspective on each of their lives, the context they were living in and their connection and encounter with Jesus. I really love that she finds a way to link stories with each other.
The book starts with a Letter to Parents explaining how the book is supposed to be read and better explored. After each story we have the Bible reference where readers can find the original story. Then, each story ends with the He, Me, She section.
The

He

section focuses on God and an aspect of His character (such as sovereignty, righteousness, holiness, majesty etc.) that was revealed in the story.

The

Me

section focuses on the reader and explains how girls can incorporate the truth of each story into their lives. What new character traits (such as obedience, humility, prudence, mercy etc.) they can pursue? This section gives practical examples for girls to focus on.

The She section is written for parents and offers a Scripture based prayer they can pray over their daughters.

At the very end of this page you will find a memory verse that relates to the story and a Hebrew or Greek word for parents and girls to learn together as a family.
At the end of the book we have some extra goodies. First, there's A Peek Behind the Scenes where Angie Smith presents her vision for this children's bible study, explains how she got in touch with Breezy and the way they connected throughout this book. Then, there's From Concept to Illustration section written by Breezy Brookshire explaining with words and sketches the process of transforming sketches and thumbnails into those amazing illustrations. She also explains the importance of historical research when creating the thumbnails for the book: "Being historically accurate is important because all of the stories in God's Word really happened. I loved studying the different aspect of these people's lives, and God's work in their lives. I hope you do, too!"
I really enjoyed reading this book! It's perfect for girls aged 6 to 10. Parents will discover that this book can be a great resource for their girls to learn more about the women in the Bible and relate to their stories.
Here's a video of Angie and Breezy explaining a bit about what this book is about:
Angie Smith
is the wife of Todd Smith (lead singer of Dove Award-winning group Selah) and author of
Chasing God, I Will Carry You, What Women Fear,
and
Mended
. She also has written two children's books,
For Such A Time As This
and
Audrey Bunny.
Along with being an accomplished writer, Angie speaks to and encourages thousands of women each year. She lives with her husband and daughters in Nashville, TN.
Breezy Brookshire
grew up in Indiana. Her skills as a young artist are mostly self-taught, drawing characters from her imagination as a young child. At the age of seventeen, Breezy opened an Etsy shop called The Breezy Tulip Studio where her artwork is sold and was first recognized by author Angie Smith. Breezy resides in Indiana to this day, sharing a home studio with her sister Emily Rose.
Audrey Bunny
was Breezy's first illustrated work with B&H Kids, which reached no. 1 on Amazon's Christian Children's Book list in October 2013.
*I have requested this book from
B&H Publishing
in exchange for an honest review. The ideas and opinions expressed here are my own.